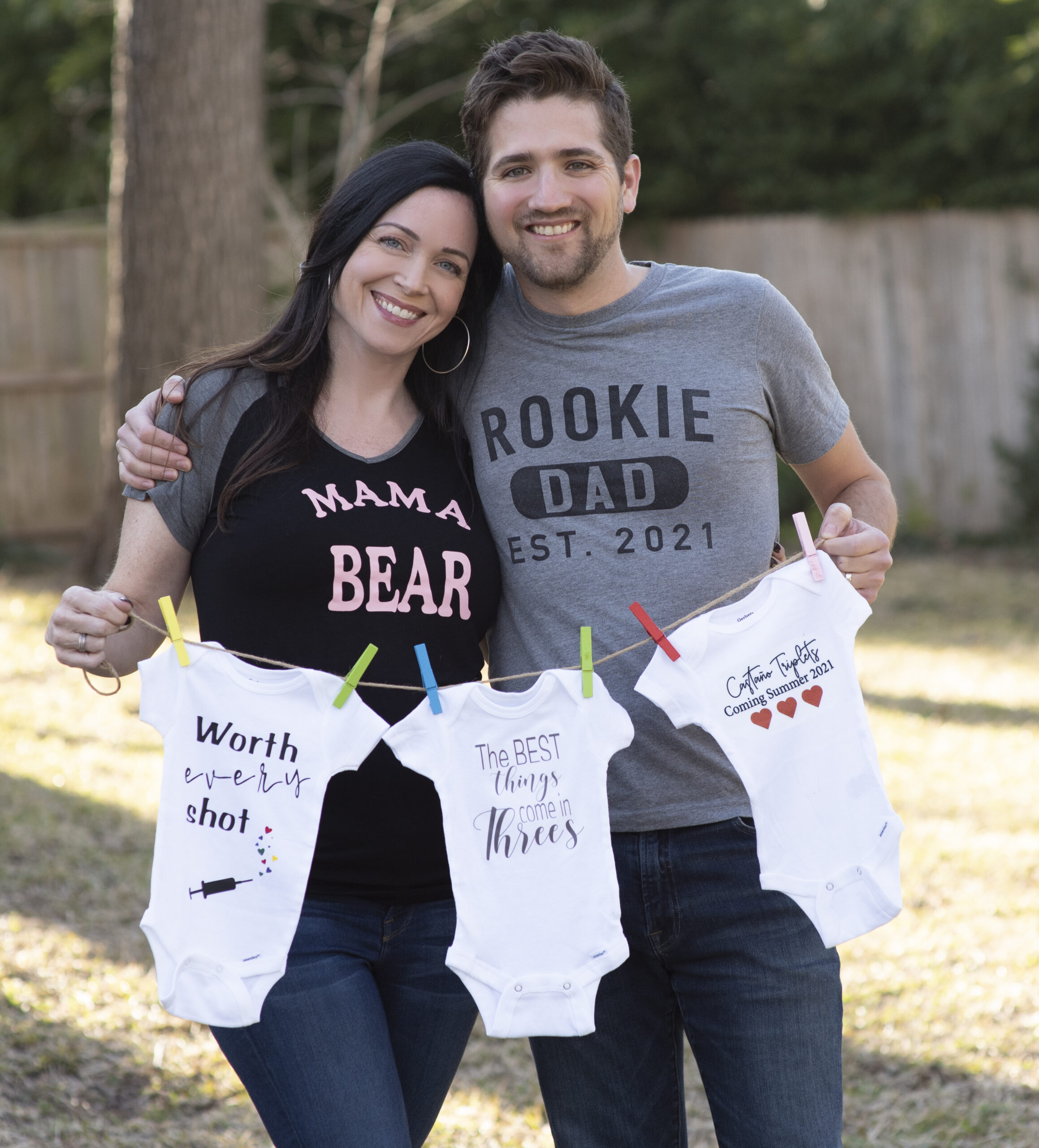 Karen & Andres, a little backstory…
Andres and I met in April of 2018 on a company sponsored prize trip that my work hosted. We were an unlikely pairing, with more than a 16 year age gap between us. But something sparked and we started dating back in Texas (he lived in Austin then, and I was in Dallas). Family was important to both of us and we spoke early about having children. He understood that in my 40's, we were mostly likely going to face challenges and have to pursue a family through IVF and/or adoption.
After only about 8 months of dating, we knew we wanted to build a life together. We got engaged on Valentine's Day, 2019 and started the whirlwind of planning a wedding in less than six months. We did get a head start and booked the venue before the actual engagement but it was still madness! But on July 13, 2019, we were married in a beautiful celebration! We were even covered in the New York Times, and they shared our story about wanting to start a family – click below to read the article!
Our IVF journey started shortly after we returned from our honeymoon, though it actually began a few years before we even met. Join me on my blog to follow along!
---
About Me (a little more history)…
I was born and raised in Dallas, TX by two awesome parents who can't wait to be Oma and Papa to these little ones coming soon. I had one younger sister, Wendy, who arrived much to my delight when I was just shy of 4 years old. We were always close, and while there was a bit of space between us emotionally and physically when I went to college on the West Coast and then she started college on the East Coast, eventually that gap narrowed as she transferred out west and we lived together during her last two years of undergrad and my two years of grad school. We honestly had an easy childhood, full with friends, travel, a great home life and a wonderful education. Picture perfect really.
When Wendy was nearly halfway through her last year of college and I was just embarking on my post grad career in entertainment marketing and sales, she was shot and killed during a random robbery late one night in Hollywood. Just like that my life was interrupted and we spent two years in the California court system before her killers were convicted of first degree murder and sentenced to life without parole. I was left an only child and my life was in a haze. I stayed in California for a long time before eventually moving back to Dallas to be close to my family in early 2011.
Life started to take direction again and I focused on photography and on starting up a fitness studio with a childhood friend.  Just months after we opened, in March of 2013, I fell suddenly ill.  After hours in the ER, tachycardic, in septic shock and kidney failure, they finally discovered the cause of the severe pain in my leg and my overall system shutdown. I was diagnosed with Necrotizing Fasciitis and rushed into surgery to try and cut the infection out of my leg and avoid amputation or worse.  After almost a month in the hospital and 10 surgeries, I was allowed to go home with a portable wound vac attached to my leg.  10 days later they closed the wound and it would take two subsequent reconstruction surgeries and six months of physical therapy to free me from crutches, canes, a limp and the disfigurement of my leg.  I live now with a 22 inch scar from my knee almost up to my left hip, but aside from not being able to run much anymore, I can do just about anything!  Sure, there's regular discomfort, but I have my own leg and more importantly my life, so I'm super grateful.  Click the link below for an article in the Dallas Morning News about my illness and recovery.
And then when I thought I couldn't struggle more, in summer of 2017, during a routine mammogram, they found a mass that turned out to be stage 1 breast cancer. We sprung into action again and based on all the findings, I underwent a radical double mastectomy with reconstruction. As it turned out, I had no genetic markers for breast cancer but I did have a tissue disorder that would make more tumors likely. It did not spread, so I did not need chemo or radiation, but it did take two reconstruction surgeries to get the new silicone girls to stay in place. Up until we started fertility, I also took a daily dose of Tamoxifin. My cancer was hormone receptor positive so the drug helps to suppress progesterone and estrogen in the body. It's super toxic to a fetus though, so I'm off it now until after I deliver. I worked closely with my oncologist and he felt the risks in trying to get pregnant were minimal given my circumstances, but it does still make me nervous sometimes that progesterone and estrogen are flowing so freely through my body right now. But I know I have great medical care and they would not have let me do this if they thought there was a significant risk.
Through all of these challenges, I have still had happy days, wonderful adventures and the love and support of incredible family and friends. But I've also always wanted to be a mom. I was never willing to settle though, so it wasn't until I hit my mid forties, that through some magical bit of chance, I met the one. There have others that I thought might have been, but Andres was unlike any of them and that's partly how I knew. So was it hard? Yes. Lonely? Sometimes? Worth the wait to have the beautiful family we are growing together? Without a doubt!