And why you should capture it. Because you should. And now that I have all of my maternity pics back, I wanted to share why I think every mom to be should capture this time. First off I should note that if you don't already know this, I am a photographer. Mostly as an adjunct side business, but I still hope someday, I can make it more full time. My specialty is portraits so I'm wholly in favor of capturing people in their element at any stage. But these landmarks, they are the best. So yes, I will be spending the money to have someone else document my trio with newborn photos. I plan to take plenty of my own, but I don't have the experience with triplets yet that I'm about to get, so I'd rather put my trust in someone else to capture the fleeting moment when they are tiny together once they get out of the NICU. Plus I want to be in some of the images, so that would make taking them myself a challenge. And yes, I did bridal portraits when I got married two years ago. And yes, we will be doing cake smash photos with my trio when they are a year old. And yes, of course, I did maternity pics. Not one session, but two. Partly because I am lucky to know some very gifted photographers. And partly because I am NEVER going to be pregnant again, so whatever images I wanted to have, to look back on and remember that swollen belly laden with babies, had to happen by the end of week 25.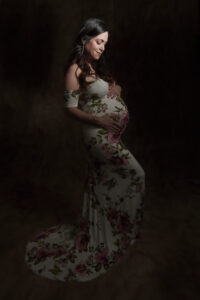 I know what some of you might be thinking. What am I going to do with those pictures? I am not putting pictures of myself, no matter how glorious and glowing my mama to be aura is, all over my house. I'm with you. That's kind of weird. I'm not about that either. You might also be thinking, do I have to be naked? Should I show my belly or hide it? Should my significant other be in the pictures too? Black and white? Color? Studio or nature? Gah! The decisions! The answer is yes, to all of it. Or no. Or some of each. You don't have to do nudes or show your belly, but if you want to, I say go for it! Some of my favorite photos to take are beautiful nudes or semi-nudes of a woman with child. It's just glorious. But it's fine if it's not your thing. It wasn't mine. As much as I love taking them, I didn't feel up for exposing all, so I didn't. Just a hint of bare belly in a few moody studio shots and otherwise I was all about some fabulous dresses.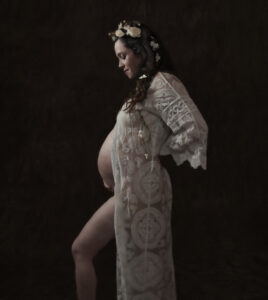 Oh, and what to do with the pictures? When I took my bridal portraits, I had the same feeling about not wanting to display a big portrait of just me anywhere in our house. But my lovely and brilliant photographer friend David, who shot the images as well as my studio maternity pics, suggested I put together a book. And it's brilliant. I picked out my favorites and added some artistic editing and made a beautiful album that sits with our wedding and honeymoon albums. The pictures are beautifully displayed when I want to reminisce, it's always easy to share if someone does want to see it, but I can also close it up and put it back on the shelf. There are many great companies out there where you can easily upload images and have a book printed. Or you can have your photographer do it for you.
photos above and below by Yony Lee Kim
So if you are on the fence, or want to do pics and aren't sure how to go about it, here are my suggestions to help you navigate capturing that glow everyone tells you that you have, even if you feel like a beached whale.
Pinterest maternity pics to decide what you are drawn to. Do you like earthy, nature scenes? Do you daydream about wearing a flower crown? Or are you all about edgy black and white, lots of shadows, some dramatic lighting, like you might have stepped out of a baroque painting? If like me, your answer is yes to all, then you might need two sessions. But search "maternity portraits nature" or "maternity portraits studio" or anything that suits your fancy and start pinning. It'll help you and your photographer nail down exactly what you are looking to capture. It will also help you to pic a photographer with the right specialty. For my studio portraits, I went to my good friend David Alley. He's a master of lighting and has the patience to work to get that moody shot just right. For my boho earth mother goddess pics, I went to my high school friend Yony Lee Kim. She know all the best locations in town and knows how to insert her subjects into the scenery to highlight the best of both. Side note, if you do want to be naked, you probably want studio. Unless your photographer knows of a remote location.
Come up with one idea that you might actually put on the wall. For us, we had worn custom Converse tennies on our wedding day. I found tiny little Converse style shoes in the three colors we had chosen for our triplets on Amazon. We did some fun shots in casual clothes where you just see our feet and the three tiny sets of shoes. It's artsy and fun and we plan to choose one for the wall of our nursery, whenever we get it done (in the midst of a remodel).
Consider doing an album for the rest. It will be fun to look through whenever you forget how damn uncomfortable you were and just get weepy about that time when you could feel your baby, or babies, inside you.
Buy something special to wear. I picked two dresses with different feels. One that was flowy and lacy from Baltic Born. And one that was fitted and flowery and just sexy enough to feel dramatic from Embie Baby on Etsy. They were both around $100. I went with ivory and a pink and green floral, since I was pregnant with both genders. But I think it's also fun to choose pink or blue if you know it's a boy or girl. Order well ahead of time and make sure you feel good in what you are wearing. Amazon also has a lot of great, inexpensive options if you want to spend less than $50. I was able to wear one of my dresses to a baby shower, so it did double duty. And it's not technically maternity wear, so I can totally wear it again. Both will probably come with me to our newborn shoot. Shoes aren't necessary unless they are relevant to the image (like our Converse). Or I once did maternity portraits for a woman who wore her fabulous wedding heels that had butterflies on them.
If you aren't comfortable doing your hair and makeup, get it professionally done. I did my own, but I'm used to doing it and I knew I could achieve the look I wanted. If self-styling is not your thing, enlist some help. It'll feel good to be pampered.
Earlier is better. There's a sweet spot in every pregnancy where you look plenty pregnant, but you still feel decent and the swelling hasn't really started. That's when you want to schedule your shoot. You also want to be in a safe zone before you could have the baby before your shoot date rolls around. For a singleton pregnancy, that's probably at least six or seven weeks before your due date (around 32 or 33 weeks). For me, with triplets, that meant we did them at 24 and 25 weeks. And it was a good thing too. By 26 weeks I was looking swollen and by 30 weeks, my babies were already out of me and in the NICU.
Get your significant other into the pics. Even if they aren't as fond of posing as you are. You'll be glad later. And it's more fun and also easier to pose when you have someone to interact with. Plus when you need to stare lovingly into the distance for those emotional shots, you have someone to look lovingly at. It's easier than trying to gaze adoringly at a random tree.
Ask your photographer to retouch anything you feel uncomfortable with. For me, it was the two bulging blood vessels that babies had helped make on my face, which thankfully, turned out to be temporary. It looked like I had a permanent bindi on my forehead and a giant angry pimple under my left eye. Most photographers will automatically do some retouching for you but it's good to confirm ahead of time.
Eat well and hydrate beforehand. It's more tiring than you think it will be to pose for photos at this glorious stage of almost motherhood. Consider packing snacks if you are going to be out on location for a while. Ask for breaks if you need it. Growing humans is hard work. It's okay to be exhausted by trying to look cute and smile.
Have fun. This is about capturing a memory, not trying to be Demi Moore, Vanity Fair epic. Am I dating myself with that one? It's a great pose though, and it looks fabulous on just about anyone. I've used it in more than one maternity session that I've shot. But seriously, it's okay to laugh. Don't always look at the camera. Show your personality. Smile at your belly. This is not about magazine covers. This is about the life (or lives) growing inside you. This is about the family you are building. This is about you. You are beautiful. You are strong. You are a superhero. And this is YOUR moment. Remember that. And capture it.